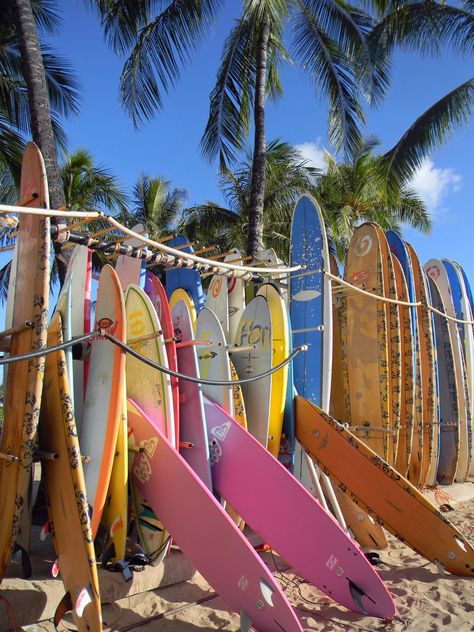 Surfing Maui is the best.
We have several surf breaks that are perfect for beginners to advance surfers.  We currently have 8 foot soft top surfboards for rent.  All surfboard rentals come with a leash.
Includes:
Surfboard with leash 
Inquire if you have questions about transporting the boards in your vehicle.
Requirements:
Safety Tips:
Please avoid shallow areas.
Don't stand on the coral.
Avoid crowds.
When in doubt DON'T GO OUT.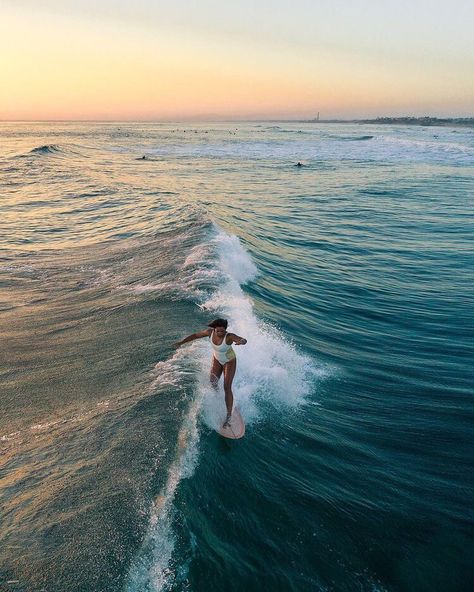 Recommended Places to Surf
BEGINNERS
As a beginner, try to surf mostly waves under three feet tall and avoid surfing during times of high wind or storms. Avoid large crowds as much as possible and know basic surfing etiquette for right-of-way in the water.
The following spots won't always work for a beginner, but it's likely that at any given time, at least a few will be viable and fun options.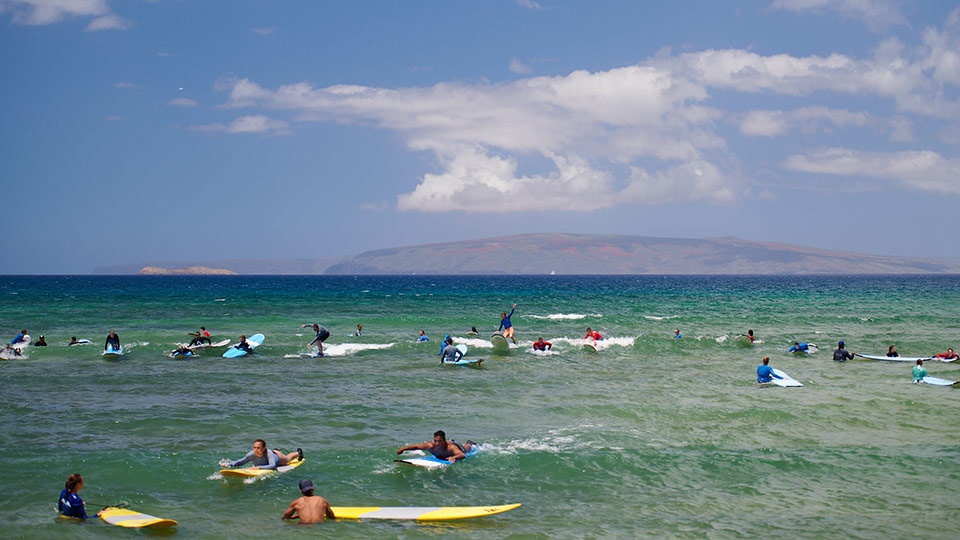 1. The Cove
The Cove at Kalama Beach Park in Kihei is the beginner of all beginner surf spots in Maui. Think of it as Maui's little Waikiki. Similar to Waikiki, The Cove is often crowded but gets consistent small waves most of the year that breaks both right and left in the shallow water. There are a handful of days where the waves are too large for beginners, but the more common problem is that they are too small and powerless. The Cove is great for many reasons and it's the perfect place for a first-timer.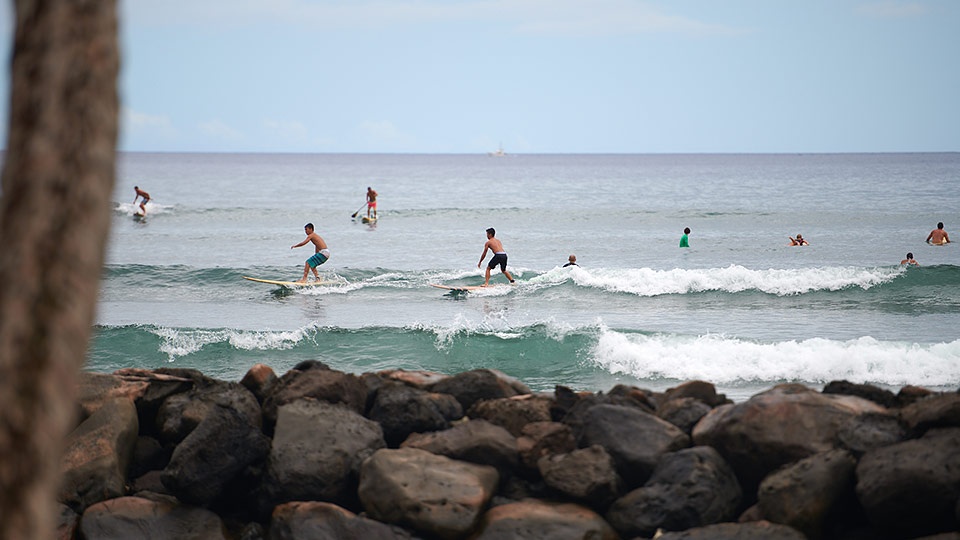 2. Launiopoko
Launiupoko is a family-oriented beginner surf break in West Maui. It's easily accessible from Honoapiilani Highway about 10 minutes south of Lahaina and is marked clearly just past mile marker Launiupoko is popular among local families, longboarders, stand up paddleboarders and beginner surfers. The waves tend to be long, slow and rolling — ideal for learning to surf. They break both right and left. The biggest problem is crowds, especially on the weekend. There is a decent sized parking lot that is almost always packed and some overflow parking across the street on the mountainside. At low tide, it can get a bit rocky and reefy; booties are advised. The paddle out can be slightly strenuous for a beginner but is excellent for building endurance. Surfboard rentals are available in Lahaina. Launiupoko is the type of place to spend an entire day, or at the very least an afternoon. There's a grassy park connected to the sand beach with picnic tables, grills, bathrooms, trash cans, and showers. Big trees provide lots of shade from the arid West Maui climate. There is also a natural tide pool perfect for small children and protected from the main surf area. It's common to see big picnics, birthday parties, and family gatherings here on the weekend. It's also a favorite spot to surf at sunset.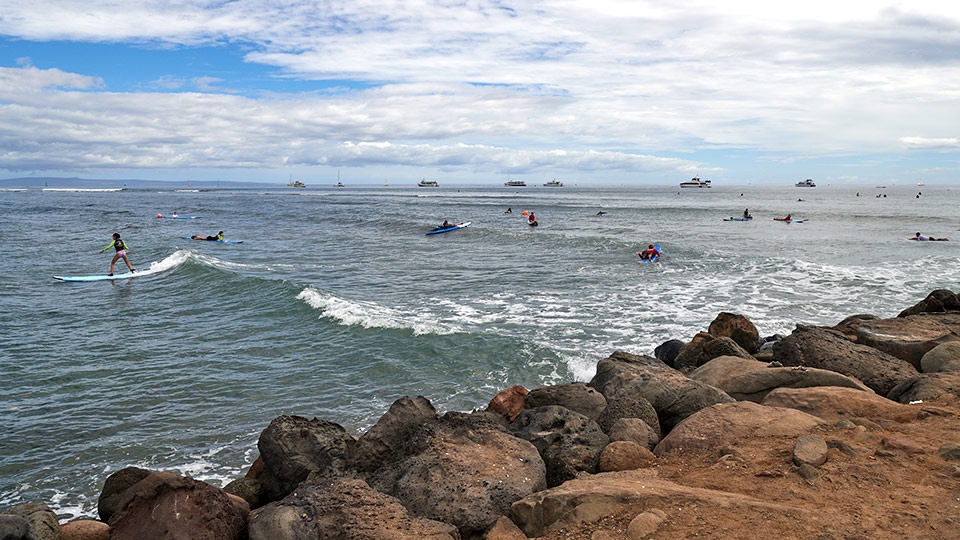 3. Breakwall
Breakwall, located just off Front Street in the heart of Lahaina and just south of the harbor, is hit or miss for beginner surfing. When the waves are small, it's a great spot to learn to surf and the go-to break for surf lessons on the Westside. However, during large swells and especially during the summer months, Breakwall can get too big and chaotic for a beginner to paddle out safely. When waves are small, Breakwall provides consistent small waves for beginners. When it's bigger, Breakwall still has some fun beginner waves closer to shore on "the inside." It tends to mostly have waves that break left but can sometimes break right depending on wind. If the waves are too big at Breakwall, head to any of our other beginner breaks on the Westside. However, when other breaks are completely flat, there is usually some sort of wave here. Use caution during low tide as the water is shallow and the reef is more exposed. The downsides to Breakwall are difficult parking and crowds. Free parking is available on Front Street along with several paid lots. Weekends and holidays can be tricky. There are usually at least ten students from a surf school in the water and lining up in their general vicinity is often a good choice for a beginner. Several surf shops offer trusted lessons and rentals in the area.
4. Kaanapali Beach
Kaanapali Beach is a picturesque surf break in Kaanapali just outside the Kaanapali Alii and to the right of the Marriott. The beach is consistently ranked as one of the most beautiful in the world. It's also a top place to learn to surf on the island. Kaanapali Beach is known for its fine sandy beach and undeniably perfect sunsets. As a surf spot, it has consistent waves and few rocks. The gentle waves break left and usually make for fun, short rides. It's a good spot to practice standing up. The surf break is conveniently located within walking distance from all the major resorts in Kaanapali and also the popular shopping complex, Whaler's Village. The most convenient place to park is at Whaler's Village, but there are only a limited amount of spots reserved for beach parking. There are public showers, and restrooms abound, and Kaanapali Beach also has oceanfront dining and reserved cabanas for friends and family to watch nearby. There are red lifeguard flags on the beach when hazards are present, like strong currents, eliminating all the guesswork with the conditions.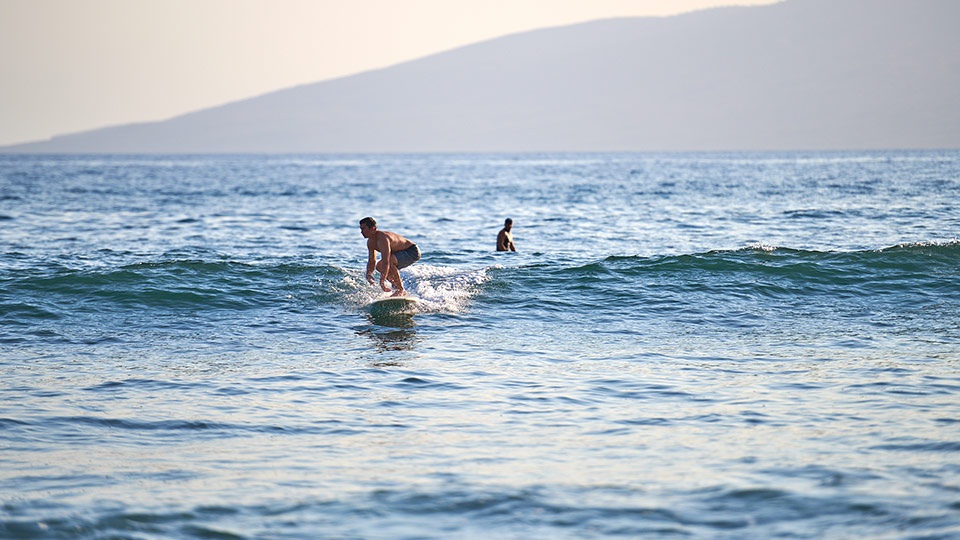 5. Puamana Beach Park
Puamana Beach Park is a beginner surf break just south of Lahaina right past mile marker 19. Rides tend to be short and the waves often close out (meaning the wave breaks all at once instead of right to left or left to right). However, it's not a bad spot to work on standing up on the wave. The paddle out is so short that it allows for many waves with little fatigue. It's such a short distance from shore that it makes for easy breaks. There are grills, picnic tables, plenty of trees to string up a hammock, porta-potties and a shower. Enjoy watching the waves and wild chickens roaming around the parking lot and grass. Paddling out and rides tend to be short, that allows for many waves with little fatigue. Facilities: Picnic tables, plenty of trees to string up a hammock, porta-potties and a shower.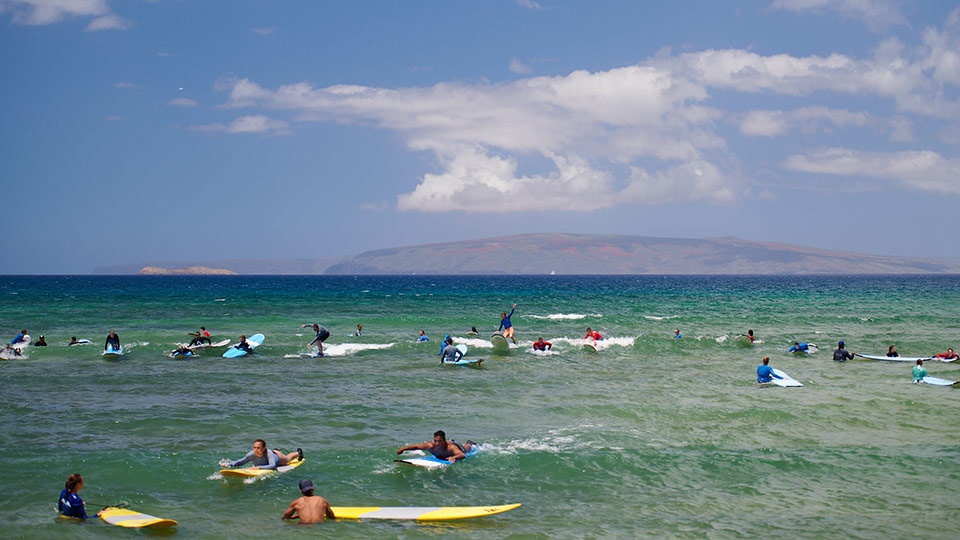 6. Grandma's
Grandma's is the only surf break in Maui with an adjacent campground. There are waves to be had just a few feet away from Papalaua Park. Grandma's is the first turn off on the left after the tunnel on Honoapiilani Highway, with surfable waves between mile markers 11 and 11.5 (Note that the GPS often directs to Papalaua in Lahaina, so pay close attention to the mile markers and signs). Amenities are few, but there are porta-potties and trashcans. Rentals are available in Kihei or Lahaina, each about a 15-20 minute drive in opposite directions. Grandma's is characterized by gentle, "mushy" waves that break left and right over the reef with a short paddle out. It's usually not very crowded, but weekends can be a different story. With the right swell, there are waves that stretch about half a mile, all the way towards Thousand Peaks, allowing surfers to spread out. However, on a small swell, the surfing area can at times be quite small. Grandma's is the only surf break in Maui with an adjacent campground. Facilities: Few amenities, but there are porta-potties and trashcans.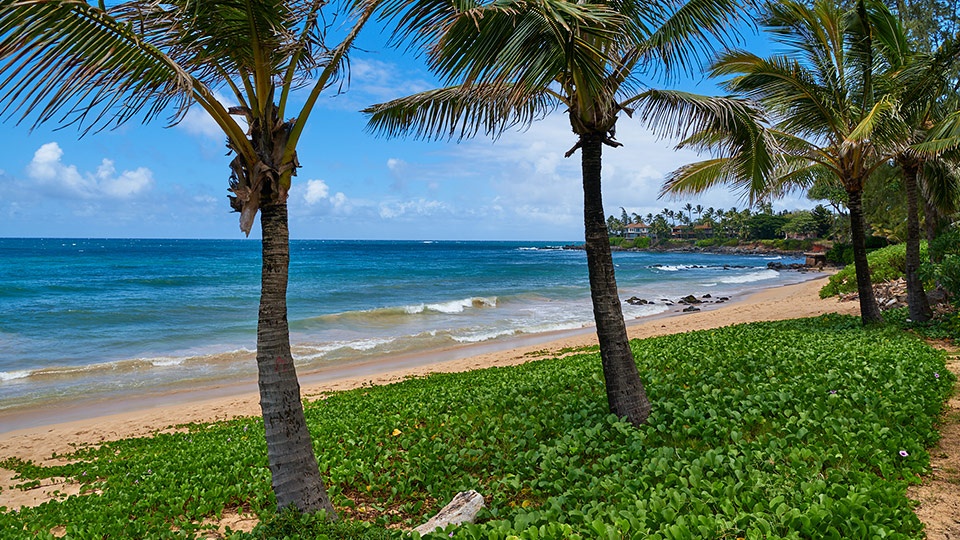 7. Paia Bay
Paia Bay in Paia can sometimes work as a beginner surf break in the winter, when Ho'okipa is just a little bit too big. It is rarely surfable in the summer months. When waves are small, Paia Bay offers a sandy beach to paddle out from and several spots to surf. The waves here can be deceiving, sometimes looking big but then losing power right before they break. Alternatively, with a bigger swell, Paia Bay is a completely different beast: there are strong currents and powerful sets. Overall, by North Shore standards, Paia Bay is considered a rare gentle wave. To help figure out if it's a beginner day or not, look around for other beginners in the water or ask a local. Another good indication is whether or not it's crowded; on a beginner day, there will usually be almost no one in the water. Paia Bay breaks right and left. Generally, a good area to surf is just slightly to the east side of the beach. There isn't much to worry about in the way of rocks or reef. There is one area of rocks close to the beach, but it's highly unlikely to end up anywhere near it. Further west down the beach is a popular beach break with boogie boarders and kids. One downside is water quality. It can get quite murky here, even when it has not rained recently. However, the view of Nakalele Point, the northernmost tip of the island, more than makes up for it. Paia Bay is a popular hangout, especially on the weekend. There is a large parking lot that does fill up. It also has a big, grassy area, sandy beach, basketball courts, bathrooms, shower, skateboard park, and picnic tables. The Paia Youth and Cultural Center is also on site. Surfable in winter months on small waves. Waves look big, but often lose power before they break Watch out for strong currents and powerful sets. Ask a local about conditions. Paia Bay breaks right and left.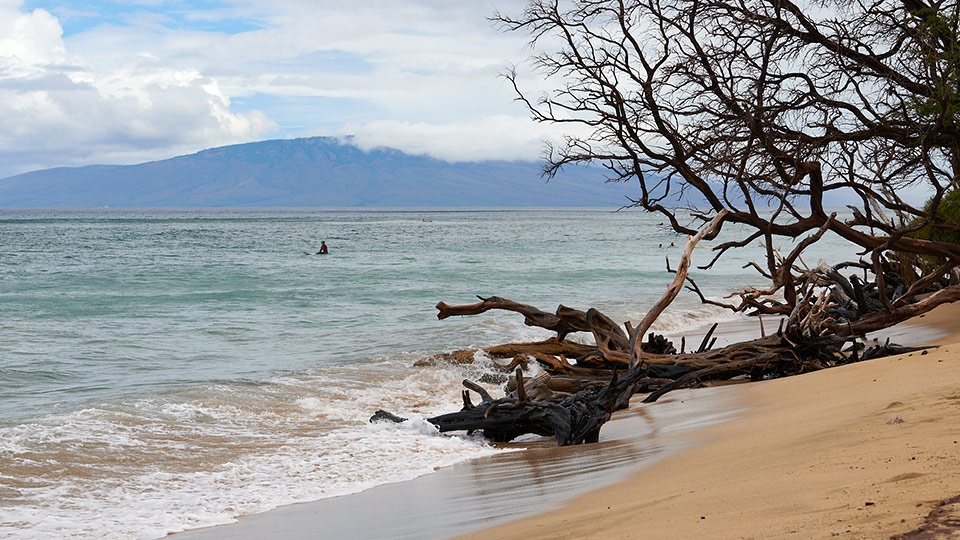 8. Thousand Peaks
Thousand Peaks is aptly named for its seemingly endless peaks. Located at mile marker 12 at Ukumehame Beach Park off Honoapiilani Highway, "Thousands" refers to a stretch of surf breaks with numerous peaks and waves breaking all over, both rights and lefts. The biggest problem here is a long paddle out and getting caught inside (Getting caught inside is inevitable for a surfer. It refers to being trapped in the spot where waves are breaking and can be solved by paddling out in a horseshoe shape, right or left and then back around, rather than straight out). It's good to paddle out with a more experienced surfer if the waves have any size to them. The best part about this break is that because there are so many peaks, it's usually possible to find one all to yourself (A "peak" refers to the spot where a wave breaks and is usually the most ideal place to catch a wave). Amenities at Thousands are few, but there are porta-potties, grills, trash cans and a parking lot. There are no showers. Camping is prohibited here but available just a half mile south at Papalaua Park. Rentals are available in Kihei or Lahaina, each a 15-20 minute drive. Enjoy breathtaking views of the usually foggy West Maui Mountains and the contrast of desert and jungle.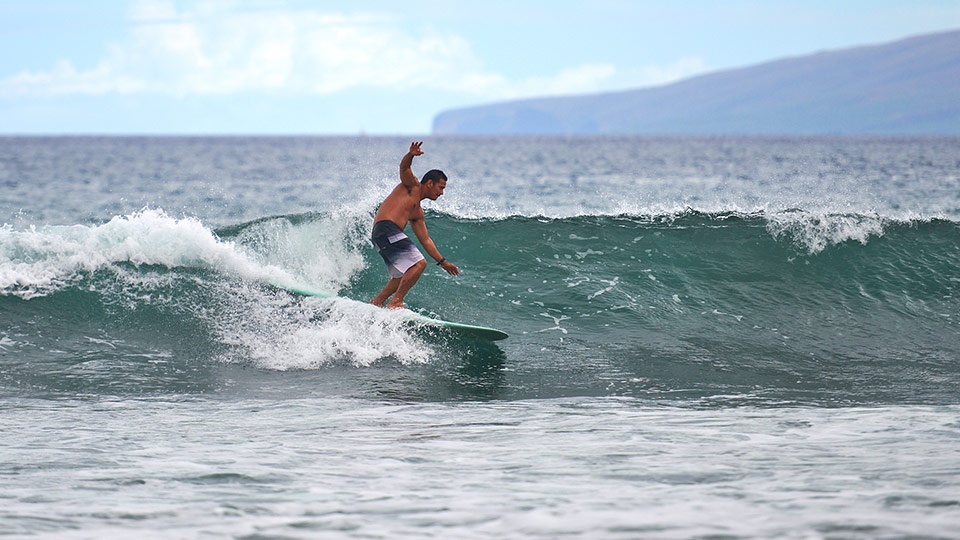 9. Guardrails
Guardrails is an unmarked stretch of Honoapiilani Highway about 5 minutes south of Lahaina between mile markers 18 and 19. It refers to the breaking waves along the guardrail of the road, just past Launiupoko. It is generally not crowded but frequented by longboarders and stand up paddleboarders. Guardrails is a quiet getaway with friendly surfers. The most difficult part about surfing Guardrails is getting in and out of the water. During low tide, sharp coral and rocks are exposed, and during high tide, the timing of getting out becomes difficult as waves slam down on these rocks. It's not uncommon to lose one's balance on the rocks, slamming one's board or body on the ground. It's best to go with an experienced surfer the first few times as there are very specific places that are best to get in and out of the water. Reef booties are helpful. There can also be a strong current, especially during high tide. Other than that, Guardrails is a fun spot for upper beginner and intermediate surfers trying to avoid big crowds. There are often less than five people in the water, sometimes none at all. There are both rights and lefts and a fairly long ride in either direction. The closest bathrooms, trash cans and showers are at Launiupoko Beach Park about 1 mile south. Parking is limited to pull-offs on the side of Honoapiilani Highway.